Welcome
Welcome to FolkLaw! Exhilarating new-age folk music that will get your feet tapping and your mind thinking! Inspired by 10 years on the road in Europe and North America, FolkLaws songs are a raw social commentary backed up by some inspirational songs and melodies. Edgy lyrics and vocals are accompanied by intricate Celtic and American fiddle and interwoven with wonderfully distinctive vocal harmonies and the bodhran drum. fRoots mag say it's like "Show of Hands with a new wave ethic", while FolkWorld say it's sounds like an "acoustic New Model Army!" . Sounds interesting?! Check it out...!



Music
The second FolkLaw album is out now! "The Tales That They Tell" has been 6 months in the making and features the full-on FolkLaw line-up of Nick, Bryn, Gaz, Marty and Lyndon as the lads play their hearts out with some of the very best FolkLaw songs written over the past two years. This is a fantastic album which features some of our most eagerly anticipated material including Seeds of Freedom, Leaves of Gold, Some way Somehow, and Tales That They Tell, in a superb compilation of 10 previously unrecorded tracks. If you heard the debut solo album Nations Pride then be assured this is a million times better and was so good that Gaz's dad stole Gaz's pre-production copy before Gaz had even finished writing his notes on the mix.

You can listen to some of the album tracks on the FolkLaw Music pages or SoundCloud and buy your very own original copy of The Tales That They Tell in the FolkLaw shop. The albums also available digitally around the world on iTunes, and all regional Amazon stores.

Buy online now via Paypal!
Downloads & Free Stuff!
On the music pages, you can download samples of the FolkLaw songs, and on the videos page we've got the animated flick of the new FolkLaw single "The Tales That They Tell" along with a couple of videos of FolkLaw in concert!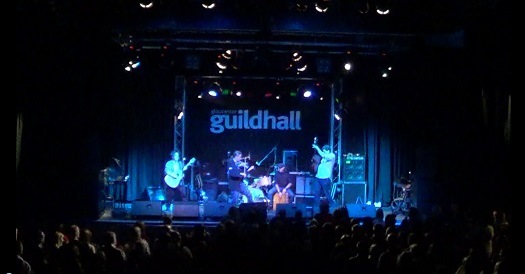 Quotes

Here are some of our favorites!



"Whirling jigs and lyrics that bite...
...imagine Show of Hands
with a new wave ethic!" - fRoots " full of passion!"

- 'Rock-n-Reel' R2 -

"A stirring set!"

- The Forest of Dean Review

"Acrobatic Fiddling!"

- Lymm Festival

"music with brains, balls and heart!"

- FolkCast

"One of the most exciting acts to grace
the stage"

- Banbury Folk Festival

Blistering musicianship!

- Severn FM

"a touch of magic"

- Bright Young Folk
Mailing List & Chat
If you would like to be updated about future CD releases, concerts and other FolkLaw gossip, then please join the FolkLaw Mailing List. Alternatively you can keep in touch with us on our FolkLaw FaceBook and FolkLaw Twitter pages which are run for us by BWM Promo. If you're on facebook you can also "like" this site as well, by clicking the 'like' button on the top of this page and spread the word!
Concerts

Check out the gigs page for details of forthcoming FolkLaw events. You'll find FolkLaw at various events from intimate candlelit soirees to the bright lights of the festival stage. Highlights to date have included Wychwood Festival, Bloxham May Fest, Monmouth Festival, the Burning Pig Festival, Music at the Crossroads, Gloucester Food and Drink Festival, Goucester Tall Ships Festival, Stroud Quarry Festival, Startford Fringe, Hook Norton Beer Festival, and are set to include Stroud on the Water Festival, Bromsgrove Folk Festival, Wessex Folk Festival and Brackley Music Festival this year. If you want to hear some of the latest songs being tried out at their most fresh and vibrant - you might be lucky enough to hear FolkLaw busking the afternoon away on the streets of old Gloucester town...
Booking & Contact
The FolkLaw lads love nothing better than new places to play and new crowds to entertain! If you are are interested in making a booking, or are like-minded musicians in need of a supporting artist please let us know. You can contact FolkLaw by email - nick@folklaw.co.uk.